Grand Palace Guide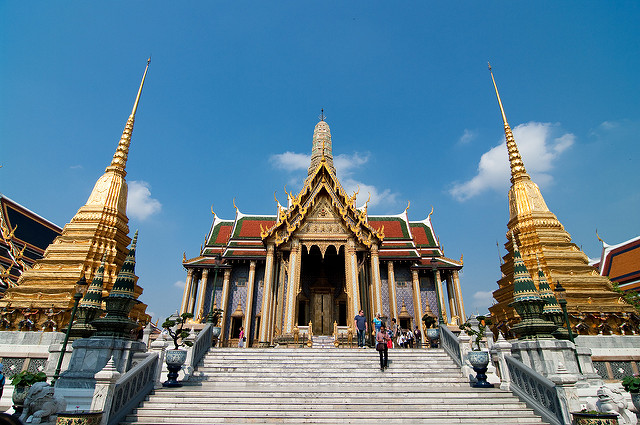 Alongside Chatuchak Market, Bangkok's Grand Palace is one of the city's biggest tourist attractions. So, if you're in the city looking to visit, here's our guide to the Grand Palace. 
Useful Information 
The opening times are 8:30-15:30

 

The admission fee is 500 Baht.

 

It is advised that you get to the Grand Palace early as it can get very busy during the afternoon. 

 

Wear sunscreen and a hat as it can get hot within the Palace.

 

The Grand Palace has a dress code which is strict to all visitors to the Palace. All visitors must be covered appropriately otherwise access can be denied. We suggest wearing long trousers otherwise you will have to rent them at the entrance. Visitors should dress in Black and White for the rest of 2017 to show condolences for the late Rama IX.

 
What is the Grand Palace? 
The Grand Palace is the former residence of Thailand's historical leaders Rama (King) I through to Rama V of the Rattanakosin Kingdom. The Palace is generally used for Royal ceremonies by the current Rama X, special visits from high-profile guests and keeps the remains of former Ramas or Royal family members before they are cremated. 
There are three courts within the Grand Palace: 
The Outer court is situated from Wiset Chai Si Gate to Phiman Chai Si Gate. The court holds the decorated inside walls of the Palace and you can also find several state offices such as the Bureau of the Roal Household. 
The Middle Court starts from Phiman Chai Si to Sanam Ratchakit Gate. This is where Royal Ceremonies take place, such as the Royal Coronation. You can also find the Siwalai Gardens quarter, Phra Maha Monthien and the Chakri Maha Prasat Buildings. 
The Inner Court was formerly used as the residence for Rama I. Although it's not used as residence anymore, it includes beautiful architecture. The court starts from Sanam Ratchakit Gate to Thaew Teng.  
Where is the Grand Palace? 
The address is Na Phra Lan Road, Phra Borom Maha Ratchawang, Phra Nakhon, Bangkok. 
The Grand Palace is at Taksin BTS station. It is also a short Taxi journey from Siam Square. 
Looking for more on Bangkok's biggest attractions? More guides like this can be found on the Blog. 
Photo Credit: Flickr- Mike Hiran