Chatuchak's Clock Tower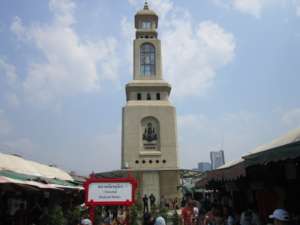 Chatuchak Weekend Market has grown to become one of Bangkok's most visited tourist destinations. But at the very heart of the market stands the clock tower which has become an iconic symbol of the market.
Chatuchak's infamous clock tower was built in 1987 when it was still growing into the internationally renowned marketplace. The tower not only commemorated the 60th birthday of the late King Bhumibol Adulyadej who is Thailand's longest-serving monarch but reportedly helped bond the Thai-Chinese merchant association.
The clock is commonly used as a meeting point for many tourists visiting the market as it stands high above all 35 acres of stalls. It's surrounded by beautiful flower beds, benches and signs of the market which has become a popular destination to sit and relax while at the market.
If you have a photo of the tower, make sure you get in touch! You can head to our contact page where you can upload you images to get featured on our website!