Exploring Metro Mall at Chatuchak Park MRT Station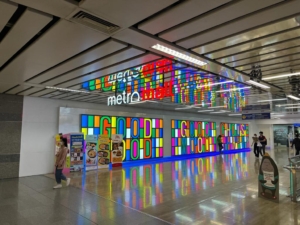 If you're looking for a one-stop shop to satisfy all your needs, look no further than Metro Mall at the Chatuchak Park MRT station. This shopping center is open every day from 6am to 9pm and has something for everyone. From clothing to food, electronics, beauty products, and more, Metro Mall has it all. Let's take a closer look at this bustling spot in Bangkok!
Clothing
Metro Mall is known for having some of the best deals on clothing in Bangkok. With dozens of vendors and hundreds of styles, you can easily find what you're looking for at an amazing price. Whether you're looking for something fashionable or simply need to stock up on everyday essentials, you'll likely find it here. Plus, if you want to try something new or experiment with a new style, there are plenty of options available.
Food Options
If you get hungry while shopping, the food options at Metro Mall has some delicious choices. From street food favorites like pad thai and som tam to international cuisines such as Japanese sushi and Italian pastas—you won't be disappointed! There are also plenty of dessert options including cakes, ice cream, bubble tea, and more.
Electronics & Beauty Products
In addition to clothes and food, Metro Mall also offers a wide selection of electronics and beauty products. You can find anything from cameras and laptops to makeup and skincare products here! There are always great deals going on throughout the year so make sure to check back often if you're in the market for any electronics or beauty items.
Metro Mall at Chatuchak Park MRT station is an excellent place to go shopping in Bangkok. Whether you're looking for clothes, electronic goods or beauty products—there is something here that will meet your needs! With great prices and extended opening hours (6am-9pm) it's perfect for busy shoppers who don't have time during regular store hours. So next time you're in Bangkok – head over to Metro Mall – it's worth checking out!