Where to stay in Bangkok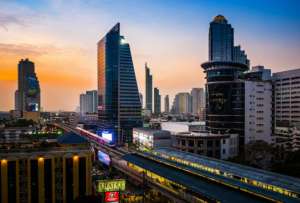 Looking for a hotel to stay in Bangkok? We have you covered, here are a few places we think you should check out!
Khao San Road
If you're backpacking around Asia, Bangkok's travellers' area is Khao San Road. This is where you will find the cheapest rooms in the city. There are plenty of budget hotels and hostels with multiple dorms for any travellers looking for minimum thrills. It's situated in the heart of the city and only a short walk to the Grand Palace, one of Bangkok's main tourist attractions.
Siam
Siam is Bangkok's premier location to stay. With hotels such as The Intercontinental, The Centara and Pathumwan Princess Hotel, Siam is filled with five-star options. Siam is the centre of Bangkok's retail shopping as MBK, Central World and Siam Paragon are all in walking distance of each other. If you're into retail therapy, this is the place to be!
Sukhumvit Road
Looking for a little nightlife? Staying along the Sukhumvit Road could be for you. Around Soi (Road) 4-20 off Sukhumvit Road, you can find moderately priced hotels with nightlife and bars either on your road or around the corner. If you like shopping, Terminal 21 is along this road and the Skytrain runs above this road so it is easy to get around the city!
Chinatown
Based north of the Chao Phraya River, Chinatown is close to the Golden Buddha Temple. You'll find great Asian food in Chinatown whether it be Chinese or Thai and you can indulge in some of Bangkok's premier hotels such as the Shangri-La and The Mandarin Bangkok which are in the general vicinity. If you're looking to get around, you might want to try a taxi as both the Skytrain and Metro are a distance away!
Riverside
For a more relaxed time in the city, staying by the Chao Phraya River could be for you. The Riverside is a small getaway from the busy streets of the city as you can travel by river taxi instead of being stuck in the regular hectic traffic. Asiatique is a popular tourist shopping destination which is situated right next to the river. For more on Asiatique click here.
Ready to go? If so you can use our Hotels Finder in the sidebar for all the best deals in Bangkok!
Photo Credit: Flickr- Nik Cyclist