Bangkok's Best Evening Activities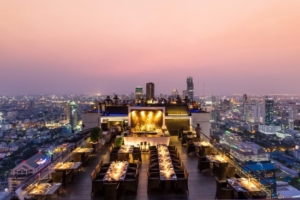 Struggling for things to do after sunlight in Bangkok? Well in a city that seemingly never sleeps, there's plenty of things to get up to in the evening. Here are our top ideas:
Hit the clubs
Like every major city, Bangkok has its fair share of nightlife. The majority can be found in the Sukhumvit which has easy access to Nana BTS station in the heart of the city. Onyx, Insanity and Levels are all EDM clubs in the Sukhumvit area which are very popular among tourists and locals. The other hot spot is Bangkok's RCA where you can find numerous clubs in a close vicinity.
Go for dinner at a Skybar
If you are looking for a lavish night you'll never forget, dinner atop the Bangkok skyline is the perfect thing for you. There are a number of Skybars in Bangkok but Vertigo at the Banyan Tree is the headliner. The bar is on the 61st Floor for drinks and the popular Bai Yun Chinese Restaurant can be found on the 60th Floor for a five-star dining experience.
Visit a Night Market
On the other end of the spectrum to fine dining, Night Markets are a great way to experience Thai culture. There are Night Markets scattered across the city, we did recommend JJ Green Market for tourists to visit but since its closure, we think Ratchada Rot Fai Market is a good place for tourists to check out.
Cruise around the Chao Phraya River
The Chao Phraya River is a great way to relax in the middle of a bustling Bangkok. Cruises down the river generally include dinner and entertainment on the boat which can be a unique way to spend an evening in Thailand. If you fancy a mix of shopping and the river views, Asiatique could be for you. Click Here for our Asiatique Guide.
Want to find more ideas to go in your stay in Bangkok? Be sure to visit our Blog to get all the tips you need or head to our Facebook for all our latest updates!
Photo Credit: Tripadvisor