Five reasons to go to Chatuchak Market this weekend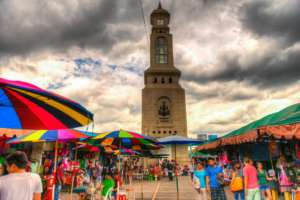 In Bangkok this weekend and looking for something to do? Well, we're here to give you five reasons to head to Chatuchak Market!
Try Coconut Ice cream
Made famous at Chatuchak Market, Coconut ice cream is one of JJ's best treats to tuck into. Coco JJ arrived at the market in 2008 and has been a hit with tourists ever since. The ice cream comes in a coconut shell and has a variety of toppings such as peanuts and coco jelly. This is unique to Chatuchak Market so don't miss out! Check out our Coco JJ article for more!
Get the best deals in Bangkok
JJ Market is one of Bangkok's best shopping spots for tourists looking for a bargain. There is a seemingly endless amount of products for visitors to get their hands on and with over 15,000 stalls, there's a deal to be had for everyone!
Grab a massage
Had enough to eat and bored with shopping? Why not have a massage inside JJ Market. Massages cost roughly 200-600 Baht and can range from a 1-hour full body oil aromatherapy to a 20-minute quick foot massage. These stalls can be found all around the market so when you feel like taking a break, this an option not to be missed!
Immerse yourself in Thai culture
Whether it be trying the local cuisine or heading to Section 7 to witness some of Thailand's most talented artists, Chatuchak Market is filled with Thailand's traditions and customs. So get out of your hotel and take a moment away from the pool to check out what Thailand really has to offer!
We're one of Bangkok's best tourists attractions
Chatuchak Market has a 4.4/5 over 14,000 Google reviews and is ranked number 1 for shopping in Bangkok by Tripadvisor. There are thousands of tourists just like yourself that have had a 5-star experience so why not try it? It's free to get in and open from 9am-6pm on Saturday and Sunday.
Have we done enough to convince you? If so, check out our Market Guide for everything you need to know and if you have any questions check out our Tips and FAQs page.