Beat the crowds at JJ Market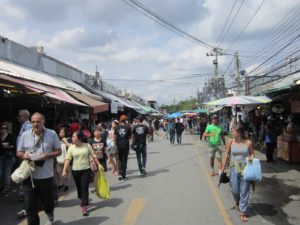 Looking to miss the traffic and grab the best bargains inside Chatuchak Market? This post will give you a few tips on when is best to venture out to the largest weekend market in the World!
Go early on the weekends
Chatuchak Market opens at 9 am on the weekend which means there is plenty of time for a brisk early start to beat the traffic. Many tour operators and tourists arrive at Chatuchak at 11 am so it gives you a couple of hours to have a look around and get to the sections you want to visit most.
Another advantage of getting there early is you can have an early lunch at midday. As well as hiding away from the relentless midday sun, there will be minimal queues and you can get served quicker and relax before others are thinking about eating!
Friday night
Did you know that Chatuchak Market is open on Friday nights? Well, if you have other plans over the weekend, this could be a great time to pop down and check out some of the highlights at the market.
Doors open at 6pm and close at midnight so there is plenty of time to have a browse. The main sections of the market are open on Friday evening but many shops do wholesale offers this evening meaning you can grab a discount on the weekend price.
Flower Market on Wednesday and Thursday
JJ Flower Market is open from 6 am to 7pm on Wednesday and Thursday for gardening enthusiasts. The Flower Market is a scaled-down version of the regular market but still great to have a quick look if you are unable to visit over the weekend. The market is very quiet and is reasonably priced making it a little-hidden gem!
There are our tips for heading down to Chatuchak Market! Need some more tips? Head over to our Tips and FAQs page for more!