Tour Availability for Saturday 2nd February 2019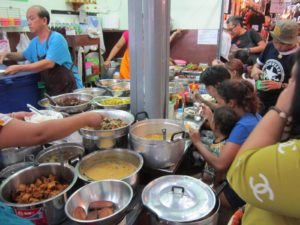 We have started doing our own tours at Chatuchakmarket.org and we are looking for people to join us on our tour this weekend on Saturday morning!
Your guided tour around the market will take you into the heart of the action and will give you an authentic Thai experience of the World's largest Weekend Market. The excursion will show you take you to some of Bangkok's best value stalls and to traditional Thai eateries where you can indulge in the local culture.
The schedule for Saturday 2nd February is:
8:30am Pick Up from Hotel by Taxi
9-9:30am Get to the Market
9:30am-12:30am Guided Tour around the Market
12:30-1pm Approx Travel back to Hotel via BTS
Price: 2000 Baht per Person, 3500 Baht for Two People
Payment will be taken by Tour Operator
Travel to and from the Market will be included in the price
Tours will be in English.
If you are interested in joining us, availability is limited so get in touch via email at info@chatuchakmarket.org