Top products to buy at Chatuchak Market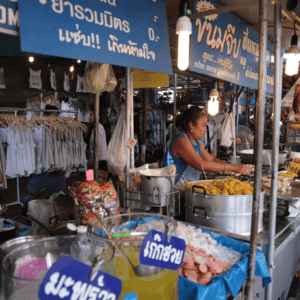 For first-time visitors to Bangkok, a trip to Chatuchak Market is a must. Located in the heart of the city, Chatuchak is the largest market in Thailand, with more than 15,000 stalls selling everything from clothes and accessories to food and home decor. With so many options, it can be overwhelming for shoppers. That's why we've put together a list of the top five products to buy at Chatuchak Market.
1. Clothes and Accessories
With more than 8,000 stalls dedicated to clothes and fashion accessories, Chatuchak is a shopper's paradise. You'll find everything from high-end designer labels to cheap knock-offs. bargaining is expected, so don't be afraid to haggle with the vendors.
2. Home Decor
From furniture to paintings to ceramic vases, Chatuchak has it all when it comes to home decor. The prices are usually negotiable, so make sure you haggle with the vendor before buying anything.
3. Thai Silk
Thai silk is renowned for its quality and craftsmanship, and Chatuchak is the place to find it. There are more than 1,000 stalls selling Thai silk dress fabrics as well as ready-made garments such as shirts, skirts, and dresses.
4. Plants
If you're looking for a unique souvenir from your trip to Bangkok, head to one of the many plant stalls at Chatuchak Market. You'll find a wide variety of plants, from cacti and succulents to bonsai trees and lotus flowers. Prices start at around 100 Baht ($3 USD).
5. Food
Chatuchak Market is not only a great place to shop but also a great place to eat. There are more than 2,000 food stalls offering everything from Thai street food staples such as pad thai and mango sticky rice to international cuisine such as Italian pasta dishes and American burgers. Be sure to try the fried insects – they're a local specialty!
There's no denying that Chatuchak Market is overwhelming for first-time visitors. With more than 15,000 stalls selling everything from clothes and accessories to food and home decor, it's easy to get lost in the sea of choices. So next time you're in Bangkok, be sure to add Chatuchak Market to your itinerary – you won't be disappointed!